Pumps
Did you know?
Purchasing and installing a new pool pump is a lot like buying a new pair of shoes. If the quality isn't good they won't last long. If there is a sale or rebate available and you aren't informed you are not happy. If it doesn't fit just right……you know the feeling and so does your pool!
We offer what we believe are the industries best and most reliable pumps in the industry. There are many variables to consider when replacing such a vital piece of your pool's circulation system including size, energy efficiency and reliability. We are here to help guide you to the best pump for your pool and your budget
Pentair VST (Variable Speed)
Learn More | Energy Savings Calculator – see how much a variable speed pump can save you!

Features
ENERGY STAR® Certified
Cost savings that average up to $1,500 annually. Up to 90% energy savings compared to previous-technology pumps
Near-silent operation-as low as 45 decibels
Seemlessly interfaces with IntelliTouch®, EasyTouch®, SunTouch® Pool and Spa Control Systems
Rotatable keypad with optional wall mount kit
Pentair WhisperFlo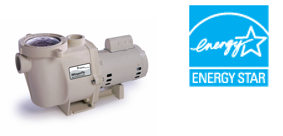 Features
2-speed WhisperFlo pump models are now ENERGY STAR® Certified: meets strict energy efficiency criteria set by the U.S. Environmental Protection Agency and the U.S. Department of Energy.
Oversized strainer basket and volute – industry standard in pool pumps.
Standard and Energy-efficient Square Flange Motors available.
Lower HP's deliver higher performance than industry standard.
Compatible with all cleaning systems, various filters and jet action spas.
Heavy-duty/durable construction is designed for long life.
Designed for residential and commercial applications.
New motor increases life, energy, efficiency, ease of installation and better cooling for long service life.
Sta-Rite Max-E-Pro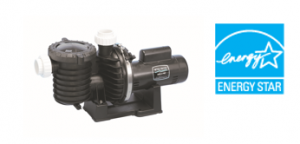 Features
2-speed Max-E-Pro High-Efficiency Pump models are now ENERGY STAR® Certified: meets strict energy efficiency criteria set by the U.S. Environmental Protection Agency and the U.S. Department of Energy.
Typical Installation – Inground pools, pool/spa combinations, inground spas, fountains and water features
Easy-to-Install – 2″ ports include external and internal threads for more plumbing options
Superior Hydraulic Design – Moves larger volumes of water, resulting in lower operating costs
Longer-lasting seal stands up to the harshest environments
Self-lubricating Lid O-ring – Does not require lubricant