Services
Accurate Pools Service – Specializing in In-Ground Pools
Celebrating Over 30 Years of Being In Business
Drain & Wash / Water Recovery Swimming Pool Openings
DRAIN & WASH OPENINGS
Remove and Store Winter Pool Cover
Rinse off pool deck and clean around pool equipment
Drain & Clean Pool and sanitize all exposed pool surfaces
Reinstall handrails, ladders, pool fittings and other pool related equipment
Start water fill
WATER RECOVERY OPENINGS
Remove and store Winter Cover
Rinse off pool deck and clean around pool equipment
Power Vacuum pool of major debris
Re-install handrails, ladders, pool fittings and other pool related equipment
Get equipment ready for start up (In most cases it can be started the next day)
Shock pool and treat with start up chemicals
CLOSINGS – CONCRETE or VINYL
Skim incidental amounts of leaves and debris from pool (Not Vacuumed)
Backwash Sand or DE Filters – Any Filters chemically cleaned for additional charge
Pump pool to safe level for winter
Winterize lights, skimmers, freezable pipes, heater and pump(s)
Remove any deck equipment and ready for storage
Cover pool with provided cover
Secure equipment pad for winter
COMMERCIAL POOLS
Certified By The State Of Illinois To Work On:
Hotels
Home Owner Associations
Apartments
Public Pools
MAINTENANCE CLEANING SERVICES
A pool in the mid-west requires attention on a regular base. The water chemistry can change daily,
depending on the weather and usage. Especially in the spring and fall while cottonwood, seedlings
and debris are falling. This kind of debris creates a huge chlorine demand and stains the filtration
system. Baskets and filters need to be check and cleaned regularly.
Whether you take care of the pool yourself or have a professional do it, a pool can change in hours if a problem is not addressed right away.
A pool that is not balanced and working properly is unsafe for those using it.
It's important to know and understand how your pool is being used and know the environment around your pool, and how it affects your pool. Every pool has its own personality. It needs to be learned and understood.
WEEKLY OR BI-WEEKLY
Vacuum, Skim and Brush Surfaces (Must Be on Full Service Plan for Vacuuming)
Clean all baskets
Check filter pressure

Backwash Filter – Sand or DE
Change out Filter Elements as Needed (Customer must provide)
Water Analysis – To Include

Free & Total Chlorine – pH – Alkalinity – Calcium Hardness – Cyanuric
Salt Level (If on Salt System)

Test operation of all pool equipment
Fill chemical feeder(s)
Clean tile line
SALES, INSTALLATION & REPAIRS
Chemicals
Heaters
Pumps
Pool Cleaners
Auto Covers
Mesh Safety Covers
Liners
Control Systems
Salt Systems
Filters
Filter Media (Elements, DE, Sand)
Pool Lighting (Standard or LED)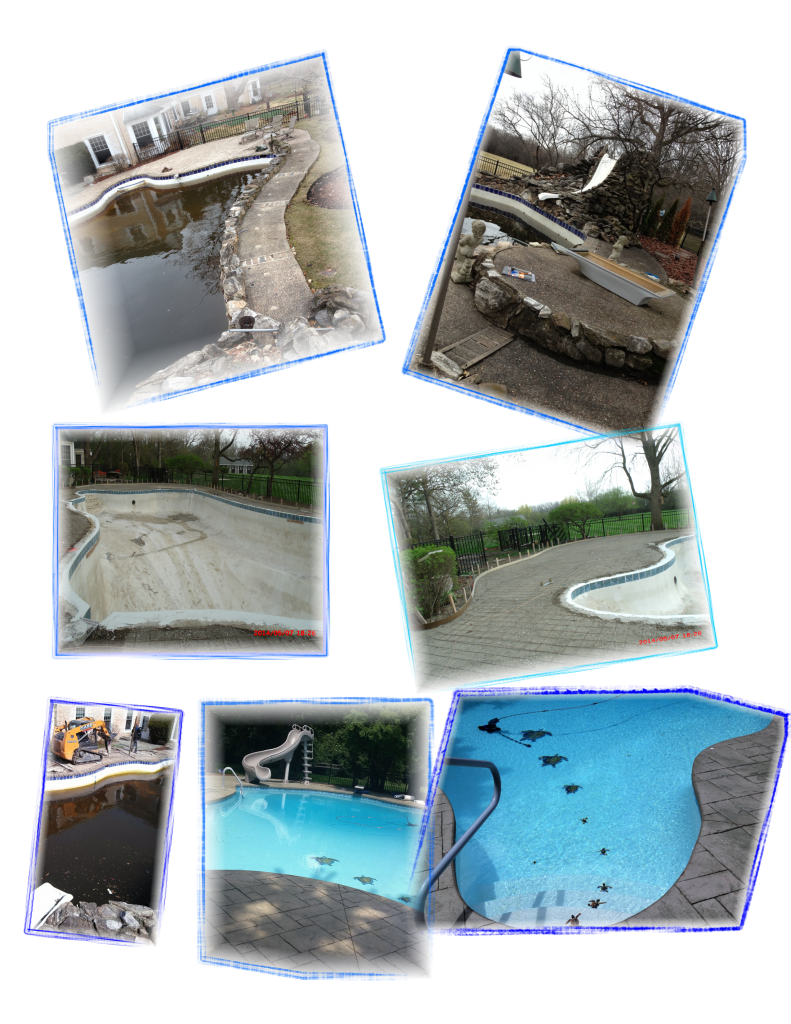 We Service everything we sell
Special Financing available for larger pool projects for customers with excellent & substantial credit
Pool Renovation Work

Plaster Resurfacing – Are your feet and hands getting cut up due to the roughness of your pool surface, or maybe the chemicals are not working as well as they use too – It might be time to get the pool resurfaced. Whether it's standard plaster or Diamond Brite, we can help make your pool FEEL new again.
Re-tile Work – Tiles falling off, chipped, cracked or just out dated – Give your pool a new updated look.
Vinyl Liner Replacement – A Liner life here in the Mid-West has and average life of approximately 8-12 years. Is your liner faded, wrinkled or torn – Make that pool look like new again
Skimmer Replacement – Replace cracked and leaking skimmers
Concrete Deck Removal & Replacement – Sinking and cracked decks or maybe just a new look like stamped concrete? We can give you a deck that will make your backyard and pool look great again
Pool Line Replacement – Skimmer lines, return lines or main drain lines, get them repaired or replaced and make the pool work the way it was designed to. Maybe add a fresh auto fill to the pool and take the worry out of having to fill the pool, or forgetting to turn the water off and overfilling the pool.
Pool Painting – Need fresh paint or maybe a color change? We can repaint or sandblast off the old and give you a fresh new look to your pool.
Water Features – Add some excitement to your backyard. Make it fun to see as it is to use. It's only as far as your imagination.
Coping Replacement – Keep the edge of your pool safe and looking good. It's a main part of your pool and should be kept in good condition.
Smoothing of rough surfaces – If resurfacing is not quite time but the surface is tearing up your family's hands and feet, maybe a quick polish and smoothing out can buy you some time until you are ready to put that new surface on.
AUTOMATIC POOL COVER INSTALLATION & REPAIRS
Auto Covers
Cover Cleanings
Annual Cover Tune Ups
WINTER MESH COVERS
Standard Mesh
Heavy Duty Mesh
Solid
OTHER SERVICES
Swimming Pool Inspections
Leak Detection
Deck / Surface Power Washing
Heater Cleanings
Pool School
Filter Cleanings / Sand Changes
We are here to help you whether your a new pool owner or have been for years. We have been servicing this area for 30 years and would like the opportunity to be your swimming pool provider
"Professional Service By People Who Care"