Filters
Did you know?
Depending on type of filter, the media can greatly impact the annual maintenance cost of your pool. Many pool owners do not have their filter elements cleaned to manufacturer recommendations or have sand media changed as frequently as recommended to maximize filter life and efficiency.
The filter on a pool is a critical part of your pool system. It is easy to be overwhelmed when looking to install or replace your filter. There are many things to consider. Pool size, pump size, water flow, swim load, environmental surroundings, maintenance cost, and even the municipality you live are all things to consider when choosing a filter. We are able to professionally guide you to what type and size filter is best for your pool and location.
Pentair Triton II
Features
Heavy-duty closure provides easy inspection, and features an easy-to-read pressure gauge with air relief valve
Swing-away diffuser allows instant access to sand and all internal parts
All internal parts are threaded for ease of service
Internal air bleed
Bulkhead connectors are threaded for easy installation and service
Combination sand and water drain makes servicing and winterizing fast
and easy
Maximum Operating Pressure 50 psi
Note: Operating Limits – maximum continual operating pressure of 50 PSI. Maximum operating water temperature (internal filter) 104 degrees F (40 degrees C).
Pentair Clean and Clear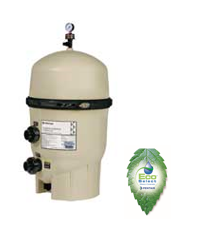 Fiberglass Reinforced Polypropylene Tank
Clean & Clear Plus Filters have a corrosion resistant injection molded filter tank featuring superior strength and reliability. The cartridge assembly uses four easy to clean, non-woven, polyester cartridges. Each filter is supplied with a bulkhead union set for easy installation.
Features
NSF listed
Superior strength
Large filter area for increased dirt capacity
1-1/2 in., 100% drain clean-out port
Continuous High Flow™ Internal Air Relief*
Injection molded tank
Balanced hydraulic flow
Tension Control™ Clamp
100% factory tested
Black bulkhead unions
High Flow manual air relief valve
Sta-Rite System III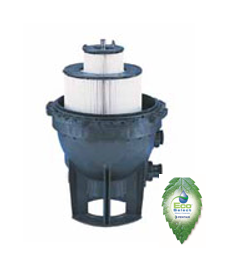 SM Series Filters
With the System: 3 Mod Media Filter, Sta-Rite brings you the product that makes Ultra-Capacity Filtration™ a reality. No longer simply "cartridges," Sta-Rite's advanced technology has brought an entirely new class of filtration to the industry. Sta-Rite's modular media concept incorporates the latest in media science, perfectly balanced flow, and an integral manifold design: namely, Ultra-Capacity Filtration. This filtration concept puts totally care-free operation within reach of today's pool owners. Modular Filter Tanks allows for quick change of filter medias without changing the tank. Contemporary style and matte black finish looks attractive in any pool setting.
Features
NSF listed
Typical Installation – Inground pools, inground hot tubs, and water features
Quality Construction – Durable two-piece tank housing constructed of Dura-Glas™, Sta-Rite's industry leading glass-reinforced composite resin
Innovative Design – The innovative balanced flow design first introduced with the System:3 Mod Media is still the standard of the industry.
Low Maintenance – Complete media coverage combined with shallow pleats means greater dirt holding capabilities, resulting in longer filter cycles and less cleaning
Quick Service – The shallow pleat design allows you to simply hose off the elements in a matter of minutes, making servicing a snap
Dual Drain Plugs – Side plug available for plumbing to waste, while the bottom plug will drain entire filter
Pentair Quad D.E.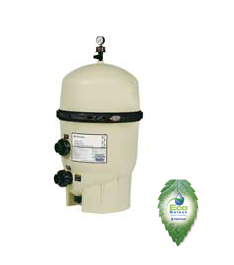 Cartridge Style Filter
The Highest Water Clarity with the Lowest Amount of Fuss. Quad D.E. filter combines the finest filtration available for the most sparkling clear water with the convenience and easy-cleaning features usually found only in a cartridge filter. Four easily accessible and removable D.E. cartridges simplify maintenance and save time.
Features
NSF listed
Four large-capacity cartridges provide maximum filter surface area for greater dirt-trapping capacity and longer periods between cleanings
Unique internal flow path ensures optimum filtration and backwashing efficiency
Chemical resistant, fiberglass reinforced polypropylene tank for exceptional strength and long life
Easily removable cartridge elements make maintenance fast and easy
Water flows through the Quad D.E. so efficiently that your pump will use less energy