Automatic Cleaners
Did you know?
Pool cleaners do more than clean your pool. Pool cleaners can also increase the efficiency of your filtration system, heater, sanitizer. As the pool cleaner moves throughout the pool, it is continuously creating water movement and in turn helping to circulate the water throughout the pool minimizing "dead spots" that are prone to algae. Pool cleaners that are not professionally installed are likely not running as efficiently as they should.
There are many choices in automatic pool cleaners and can often be confusing. We have seen all too often, pool owners have chosen a cleaner primarily based on cost, not knowing what other options there are or what may be most effective. The pump, filter, pool shape, pool surface, and environmental surroundings all influence the best choice for your pool cleaner. We can guide you to what works best for you.
Brochure: Polaris Pressure cleaner family
Polaris 280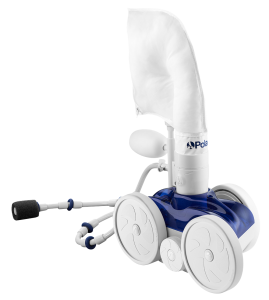 The Polaris Vac-Sweep 280 pressure-side pool cleaner works in all in-ground pools and requires a booster pump. It is powered by double jets, providing greater vacuum power and faster cleaning (3 hours or less). The Polaris 280 easily connects to a dedicated pressure line and sweeps, scrubs, and vacuums all surfaces of the pool. The pressure cleaner is equipped with a single chamber filter bag where it captures large debris such as leaves, acorns, pebbles, and other small to large debris. Its unique filter bag removes debris before it reaches your pump basket or filter, prolonging the life of your filtration system.
Features
Powered by double jets, cleans a pool faster (3 hours or less)
Works in all in-ground pools of any size and shape
Sweeps, scrubs, and vacuums the bottom and walls of your pool
Runs off a separate booster pump
Includes 31-feet of feed hose, and equipped with single chamber filter bag for capturing larger debris
Available in a Black Max™ Model to complement dark-bottom pools
Pentair Racer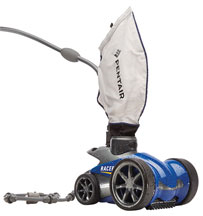 The Pentair Racer cleaner is the only pressure-side cleaner that scrubs for more efficient cleaning. It gets pools sparkling clean with 1/3 more power, a massive intake, and a built-in rotating brush to tackle dirt and debris with ease. Plus, the distinctive Night Cruize LED Lights add intrigue after dark.
Learn more about the Racer cleaner and if this model is the best fit for your pool with our Selection Tool.
Features
Built-in front rotating brush deep cleans stubborn dirt
Cleans continuously in both forward and reverse modes
40% larger vacuum intake to take on debris of all shapes and sizes
Nearly 1/3 more cleaning power
Exclusive, self-powered Night Cruize® LED lights add ambiance and intrigue to nighttime cleaning
Polaris 9550 Sport/Robotic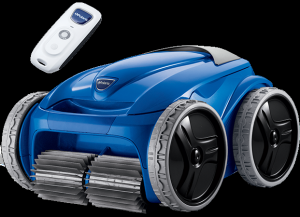 4WD Robotic Cleaner with 7-Day Program and Remote
The Top-of-the-line 4WD robotic pool cleaner featuring Easy Lift System, motion-sensing handheld remote, dirty canister indicator, and Vortex Vacuum technology for best-in-class cleaning performance.
The 9550 Sport 4WD provides best-in-class cleaning performance and features. The absolute top-of-the-line 9550 Sport tackles any pool terrain, climbs steps and walls, and scrubs tile line with a solid-blade scrubbing brush. One of the distinct advantages of 9550 Sport is the smart 7-day programmable timer, with fully customizable cleaning cycles that allows pool owners to set it and forget it. With just a simple setting, you can clean the pool as frequently as you like and enjoy a pleasant, healthy pool all the time. In addition, the new and intuitive motion sensing remote puts the cleaning control in the palm of your hand. Just point and direct the 9550 Sport to any desired location in the pool and you will never miss a spot. It is also the only model in the family that features a dirty canister indicator.
The 9550 Sport cleans pools up to 60′ in length. It includes a new premium, compact transport caddy that can be assembled in just minutes without using any tools. Model is backed by a 2 year limited warranty.
Features
Motion-Sensing Remote – Responsive cleaning control in the palm of your hand.
Easy Lift System – With the touch of a button the 9550 surfaces to a desired location and waits for you to grab it, then automatically evacuates water for effortless removal from the pool.
Dirty Canister Indicator – No more guess work. Know immediately when it's time to empty the filter canister.
Vortex Vacuum Technology – 25% more vacuum power and 4x more debris capacity than other cleaners.
Easy Clean Filter Canister – debris can easily be emptied with a simple shake and spray convenience.
7-day programmable timer – fully customizable set it and forget it cleaning modes.
ActivMotion Sensor® – automatically controls robot's position at all times, allowing complete cleaning coverage without any hang ups.
4-Wheel Drive Technology – cleans pool floor, walls, and scrubs tile line with a solid-blade scrubbing brush.
Waterline Only Cleaning Cycle – for isolated tile line scrubbing.
Pentair Boost Rite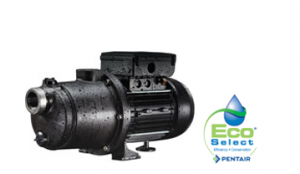 Booster Pump for Pressure-Side Cleaning Cuts Energy Costs By Over 27%
The Boost-Rite pump from Pentair powers up your pressure-side cleaner over 27%* more efficiently than other booster pumps on the market. It uses an advanced 5-stage impeller design to deliver greater water pressure for more powerful cleaning. Boost-Rite Booster Pump has 1″ fittings which allow for better flow and greater efficiency. The Totally Enclosed Fan Cooled (TEFC) motor design allows the pump to run cooler and quieter.
Features
5-stage impeller design cuts electricity use by up to 27%.
Provides 50psi @ 13.2 US GPM.
Quieter operation for a more relaxing poolside experience.
The Boost-Rite pump delivers greater water pressure for more powerful pressure-side cleaning.
Polaris PB4-60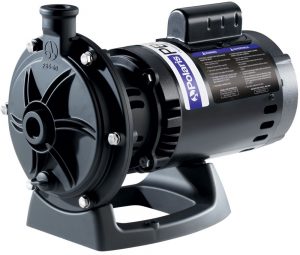 Save Energy Without Sacrificing Performance
The PB4-60 booster pump delivers the best combination of high-performance power, quiet operation, and durability.
For best performance, always power your Polaris pool cleaner with a Polaris booster pump.
For more than 20 years, Polaris booster pumps have been the benchmark for powerful Polaris cleaner performance. Unlike other booster pumps, Polaris booster pumps are specifically designed to operate Polaris pressure-side pool cleaners at optimum power and cleaning efficiency.
Maximum Efficiency
Ultra low flow requirements allow the booster pump to operate on the low speed of a 2-speed or variable-speed pump for energy savings
Ultra high efficiency 3/4 horsepower motor