Control Systems
Did you know?
Swimming pool controls and automation can control more than just your pool and/or spa. Control systems can automate anything that can be wired to the control panel including things like outdoor lighting and stereo. The options are limitless!
Control systems come in endless shapes and sizes when it comes to options available, what they can control, and how you want to control them. We find that control systems are the most confusing product category for consumers because there are so many options.
Pentair Easy Touch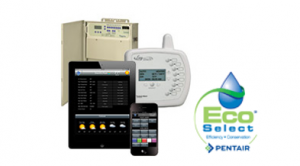 The EasyTouch Control System family offers a new level of control for homeowner's looking for an affordable, easy to use pool/spa control system. EasyTouch allows full control of all pool/spa features including advanced features such as colored lighting and IntelliChlor® Salt Chlorine Generator support. Every EasyTouch system includes an easy to use control panel that is built into the outdoor enclosure. This control panel allows for full system setup, programmability, and everyday operation. In addition, there are several other available remote interface choices. The EasyTouch systems come in a variety of configurations: Pool only or Spa only, Pool/Spa with shared equipment, and also integrated with Pentair IntelliChlor Salt Chlorine Generator.
Jandy RS Controls and iAqualink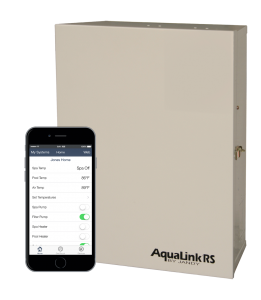 Jandy Pro Series AquaLink RS systems enable total control of your backyard experience. AquaLink RS systems are fully integratable with home automation systems, and feature our patented seasonal adjust technology, which can modify schedules throughout the year, for substantial additional energy savings. AquaLink RS delivers the ultimate pool/spa automation experience.
Features
Control individual pool and spa functions, lighting, and water features from the convenience of your home.
Automate daily pool equipment functions, such as filtration, sanitation, and cleaning and create one-touch macros.