Heaters
Did you know?
Many manufacturers greatly reduce the warranty of their products (including pool heaters) if they are not sold and installed by a pool professional. Pool heaters are considered an appliances. Proper disposal of an old heater is often over looked. Efficiency ratings reduce as heaters age.
A heater can be a vital part of getting the most enjoyment out of your pool. Having the water at that perfect temperature for your family can extend (the entirely too short summer season) into the spring and fall, and does not make your use of the pool be influenced by temperature loss over the cooler nights.
Whether you are considering installing a heater for the first time, or you are looking to replace an older unit that is no longer efficient, we are here to help. We offer what we have found to be the most reliable and energy efficient pool heaters with the best manufacturer support. The vast majority of service calls we perform on heaters are on units we did not install.
Raypak/Residential
Features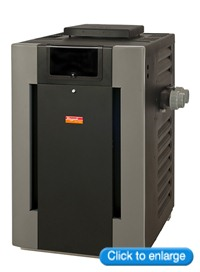 Control Options
These units are available with two different control designs to meet your requirement. They are available with digital electronic ignition, or as a millivolt design. The digital system (pictured) requires external power (120VAC or 240VAC) and generates a pilot only when there is a call for heat. It provides simple setup and easy programming, as well as easy-to-understand diagnostics and simple connections to remote controls. The millivolt ignition system does not require external power. It generates its' own current internally, with a small thermocouple driven by the constant pilot.
All-Copper-Fin-Tube Heat Exchanger
The fin tubes of the heat exchanger are each made from a single piece of extruded copper. This integral-fin design allows maximum heat transfer to be attained and maintained. Cupro-nickel is also available as an optional upgrade.
Fuel-Efficient
Energy-smart Raypak heaters consistently achieve the highest efficiency ratings. They exceed all federal and state standards.
Raypak Professional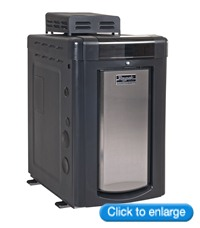 Features
Warranty – 3 years parts and labor
ASME-Certified Heat Exchange construction (7/8″ cupro, helical sweep)
Internal bypass
2" Plumbing connections (PVC slip and threaded)
Flow Switch, T&P gauge and 125# PRV installed
Stainless steel base
Direct spark ignition
Wiring sheath to protect wiring from rodent damage
No condensate drain required
84% efficiency
NOx emissions under 55 PPM (40ng/j). Consult local emissions requirements prior to ordering.
120/240V 60Hz • 6amps@120V or 3amp@240V
Left or right water and electrical connections
Available for natural gas or propane
4" supply gas pressure (minimum)
Easy to winterize
Integral feet for easy Tapcon® installation
Direct vent capable – 4″ combustion air PVC or sheet metal
CAT I vertical venting
CAT III sidewall venting (see I & O manual for details)
Multiple venting options (top and rear)
Digital controls with on board diagnostics
Compatible with most remote systems
Pentair Master Temp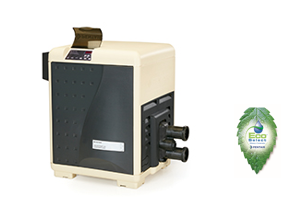 MasterTemp heaters offer all the efficiency, convenience and reliability features you want in a pool heater, plus a lot more. As easy to use as your home heating system, plus, user-friendly indicator lights and troubleshoot icons make system operation and monitoring a snap. The compact design and super quiet operation won't intrude on your poolside leisure time. Heavy-duty (HD) unit with cupro-nickel exchanger stands up to the harshest of applications, like low pH, high flow or heavy use.
Features
Heats up fast so no long waits before enjoying your pool or spa
Best-in-class energy efficiency*
Manual gas shut-off when service is required
Eco-friendly MasterTemp Heater is certified for low NOx emission and outperforms industry standards
Rotating digital display allows for easy viewing
Tough, rustproof exterior handles the heat and weathers the elements
Certified for outdoor and indoor installations
For Air Intake Kit order part number 461031